Study abroad is a wonderful way to broaden your social, academic, and language skills while also enriching your university experience. The UK is one of the 10 best countries to study abroad. With over 500,000 foreign students enrolling each year, the United Kingdom is one of the world's most popular destinations for higher education.
According to UCAS, about 50,000 undergraduate courses and high-quality postgraduate courses are offered by over 395 universities and colleges throughout the UK. Therefore, it may be difficult for prospective students to choose the top university to study in the UK.
No worries! Here, LingoTalk provides you the top universities' recommendations to pursue higher education in the UK.
1.
University of Oxford
The University of Oxford, which drops one spot in the global top universities to fifth, takes first place in the UK this year. Globally, in terms of the number of top subject positions, Oxford comes behind MIT and Harvard in the United States. The rankings are rated from the University's strengths in education and research which are based on surveys of academic peers, employers, and assessments of research impact.
The University of Oxford has become one of the top universities in the world because it obtains the first in the world for anatomy and physiology, anthropology, archaeology, classics and ancient history, English language and literature, geography, modern languages, pharmacy, as well as arts and humanities.
Aside from that, Oxford is related to 11 Nobel Prize winners in chemistry, five in physics, and 16 in medicine. Tim Berners-Lee, Stephen Hawking, and Richard Dawkins are among the notable Oxford thinkers and scientists. Hugh Grant and Rosamund Pike, as well as Oscar Wilde, Graham Greene, Vikram Seth, and Philip Pullman, all attended Oxford.
2.
University of Cambridge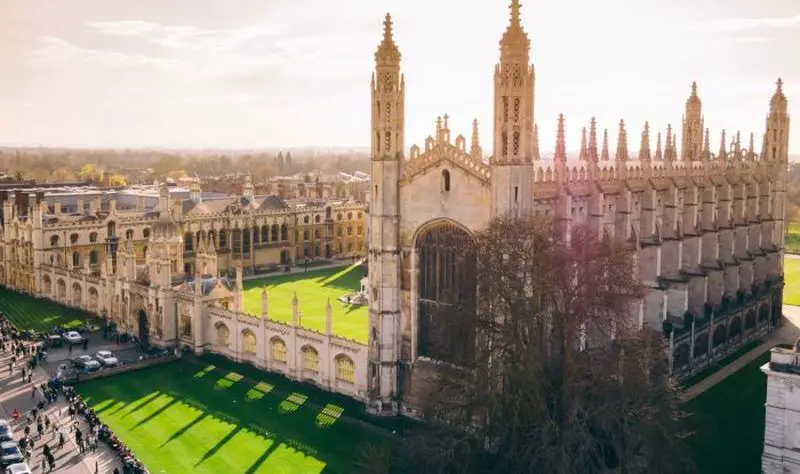 The University of Oxford and the University of Cambridge are competing for first place in the UK ranking of top universities. In 2021, Cambridge is in second place once more, with a global ranking of seventh. On the other hand, Cambridge is the best university in the UK for academic and employee performance, ranking second internationally in both categories.
Nobel Prizes have been given to members of the University of Cambridge for notable contributions such as discovering the structure of DNA, developing a national income accounting system, as well as mastering an epic and narrative psychological art. Sir Isaac Newton, Charles Darwin, William Harvey, Francis Bacon, James Chadwick are some notable alumni from this university.
Employers value graduates of the University of Cambridge, as shown by the university's high graduate employment rate of 94%. The University of Cambridge is renowned for its excellent courses such as Anthropology, Archaeology, Accounting & Finance, Arts & Humanities, Business & Management, and more.
3.
Imperial College London
Imperial College London, the capital's highest-ranked university, earns third place in the United Kingdom's top universities. It climbs one spot to eighth place globally this year and ninth place for academic credibility. Sir Alexander Fleming, the discoverer of penicillin, is among the 14 Nobel Prize winners at the university.
The college has about 8,000 employees and 15,000 students, with a focus on science, engineering, medicine, and business. Imperial College London is known for its impressive rank in several courses: Clinical, pre-clinical and health, 3rd in Europe (4th) Computer Science, 4th in Europe (7th); Engineering and technology, 4th in Europe (11th); Life Sciences, 4th in Europe (14th); Physical Sciences, 4th in Europe (11th).
4.
University College London (UCL)
UCL (University College London), which drops two positions in the global top universities this year to 10th, is only missing out on a place in the UK top three. UCL earns the highest ranking in the academic reputation indicator, where it is ranked 13th worldwide.
UCL obtain a fourth place in the UK's top universities because it has secured a top 10 place in an additional eight subject tables, namely Anatomy & Physiology (5th), Anthropology (joint 4th), Archaeology (3rd), Architecture/Built Environment (3rd), Geography (8th), Medicine (8th), Pharmacy & Pharmacology (5th) and Psychology (7th).
5.
University of Edinburgh
The University of Edinburgh, the only Scottish institution in the UK top 10, is ranked fifth in the UK's top universities and remains the world's 20th best university. It performs especially well in terms of academic credibility and employer reputation, ranking 25th and 31st in the world for these indicators.
The University of Edinburgh is home to a total of 20 Nobel Laureates. Some of them are the winners of the Nobel Prizes in Physics, Chemistry, Physiology or Medicine, Peace, Literature, and the Economic Science Memorial Prize. Among the many alumni, Charles Darwin, David Hume, Alexander Graham Bell, and Sir Arthur Conan Doyle are some of the notable ones.
Besides, one of the top universities in the United Kingdom are excel at these certain courses: Arts and Humanities, Molecular Biology and Genetics, Surgery, Space Science, Microbiology.
6.
University of
Manche
ster
This year, the University of Manchester is ranked sixth in the United Kingdom and joint 27th in the world's top universities. Employers think highly of Manchester graduates, with the university ranking 21st in the world on the employer reputation indicator.
There are currently 25 Nobel Laureates among the University of Manchester's current and former staff and students. The notable alumni of the University Of Manchester include people like Phil Collins, Milo Yiannopoulos, Ludwig Wittgenstein, Jonathan Ke Quan & J. J. Thomson.
The University of Manchester offers over 1,000 courses, with reputed bachelor's degrees in English, History, Politics and International Relations, and Social Anthropology. 91% of Manchester's recent graduates go straight into employment as well as further studies.
7.
King's College London (KCL)
King's College London (KCL) obtains seventh place in the UK again this year and climbs two positions in the global top universities rankings to joint 31st. KCL is one of four London-based universities in the UK top ten, with impressive rates in all indicators, especially in academic reputation, where it ranks among the top 50 universities in the world.
KCL is the best university that offers world-class education and cutting-edge research. This university has influenced the advances that shape modern life, including the discovery of the structure of DNA, studies that contributed to the invention of the radio, television, cell phones, and radar.
King's has a notably outstanding reputation in the arts, law, sciences (including a wide variety of health fields such as psychiatry, pharmacy, nursing, and dentistry), and social sciences (including international affairs).
8.
London School of Economics and Political Science (LSE)
The London School of Economics and Political Science (LSE) is ranked eighth in the UK's top universities, but it has dropped five positions to 49th internationally this year. LSE is the most diverse UK university in our ranking, ranking seventh in the world for foreign students. It is one of the best options for students who want to study abroad in the United Kingdom.
In total, 13 LSE disciplines were ranked among the top ten in the world. In individual subjects, this university earned the following global rankings: Second in Geography; third in Social Policy and Administration, Sociology and Communication and Media Studies; fourth in Accounting and Finance and Development studies; fifth in History, Philosophy, Economics and Econometrics Politics, and International Studies; sixth in Law, eighth in Anthropology, tenth in Business and Management Studies.
9.
University of Bristol
The University of Bristol is ranked ninth in the United Kingdom's top universities, but it has fallen nine positions in the global rankings this year, to 58th. The university receives an excellent grade on all ranking indicators, particularly academic reputation, where it is ranked 74th in the world.
This university is one of the most highly rated academic institutions in the UK and has been the first higher education institution in England to admit women on an equal basis with men. That means it would be the best university to pursuing higher education or study abroad for women.
Also, the University of Bristol is most renowned for courses such as Geosciences, Clinical Medicine, Arts, Public Health, Psychology, and Life Sciences. There are more than 446 undergraduate programs and 220 doctoral programs.
10.
University of Warwick
The University of Warwick earns 62nd place internationally for the second year in a row and 10th position in the United Kingdom's top universities. Their ranking performance is largely due to the university's global outlook, which ranks near-perfect in the international faculty and international students ranking indicators. The University of Warwick is one of the top universities in the United Kingdom, with a well-deserved reputation for research and teaching, innovations, as well as links with business and industry.
The University of Warwick offers many postgraduate and undergraduate programs in various fields like engineering, science, medicine, social science, arts, theatre, language, law, business, and finance. The Student Careers and Skills team at the university works to ensure that graduates are employable. This university provides study abroad opportunities for students in 50 Universities across 20 countries.
Can't wait to take higher education in one of those

top universities

?
Enrolled in one of those prestigious universities will elevate the experience, way of thinking, as well as useful skill set that lead to broadening career opportunities. Of course, those benefits will attract thousands of prospective students from around the world. Therefore you have to prepare well such as obtain a high IELTS score or any related certifications that may be required by the institution.
Luckily for you that LingoTalk now provides an IELTS preparation class that will help you ace your IELTS test! You can also enroll in other language courses besides English such as French, German, Spanish, Korean, etc. Click here or follow our other social media for further information about LingoTalk's IELTS preparation class.
Top Universities
Top University
Best University
Higher Education
Study Abroad